MELANGELL - HONEY ANGEL
performers: 4 singers. 4 musicians, 1 actor - duration 1 hour
LISTEN...

music:
text:
Mike Harris © 1989
Bent-Erik Rasmussen, general secretary of the Franz Schubert Society Denmark says about Hanne Tofte Jespersen's music after the premiere of The Testimony of Melangell during the Schubertiade 2011:
"- She makes use of individual singers both as soloists and in solochoral parts in a most refined way, letting them appear with simple clarity, but at the same time in very refined coherence with the text. The way the accompanying instrumental parts are composed also relies on a very thorough knowledge of the potential of the instruments - and of the musicians - as to expression, without ever falling into the pitfall of pastiche or stylistic imbalance."


for contra alto, bass baritone, soprano and tenor,
violin, double bass, piano, recital and percussion.
2 VERSIONS possible:

1) as choreographed concert.
Visual artist Alison Michell's scenography
may be adapted to the actual venue.

2) as concert project with
mixed choir (SATB) in selected passages.
In July 2014 Music for the Mysteries did a Nordic project with Stefan Parkman as conductor and
choir singers from South Icelandic Chamber Choir during Skálholt Summer Concerts in Iceland..
OTHER WORKS:

"The Seven Natures" combines music from 2007 to a chapter of the Creation Myth
according to Enoch
with a Celtic manus by Mike Harris (UK)
LISTEN...
read lyrics...
"Vision of Enoch" - scroll text of Essene origin, that is more than two thousand years old, yet so modern in its poetic clarity, is set into a music which bridges past-present-future. It includes 2 balaphones, that is Ghanaian xylophones, which Hanne has combined with a lyric theme for contrabass and scordatura violin
LISTEN...
read lyrics...


v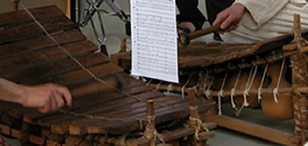 back to menue
The programme also includes two works by Anders Hvidberg-Hansen, Danish composer and percussionist.

His transparent music reflects years of world music inspiration paired with a deep interest in ancient rhythms and what could be termed "Nordic tone".

LISTEN to iINSTRUMENTAL MUSIC by Anders

LISTEN to VOCAL MUSIC by Anders
Swedish born singer Agnethe Christensen adds medieval songs which she performs solo with cantele. These include liturgical angelic songs from 12th century.



The group has also arranged medieval magical ballads of folkloric origin -
some for two voices, cantele, violin and others for the whole group.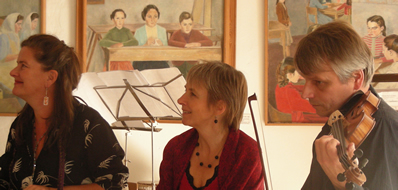 photo from performance of the group's version of "Tam Lin" at Malergården, Odsherred's Art Museum