Hanne Tofte Jespersen


composer
member of Danish Composers' Society & Danish Musicians Union



As an artist I'm dedicated to making the invisible world audible and to the creation of interactive & collaborate works.
I like to bridge performers and audiences. My own background is a broad one, I have roots in both classical European music, choir traditions, folk tones as well as world music, the latter after years of stay and work in West Africa.
I compose in deep respect of the professional singer's and instrumentalist's fascinating skills. I often integrate story telling into music and also find it inspiring to compose for projects where children and youth meet and perform with professional musicians.
My own main instruments are voice and piano.

IF THE LAND COULD TALK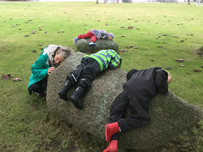 In this project I set urban and rural landscapes to music. In 2014-17 in 8 areas of Roskilde District.
latest project: May-June '17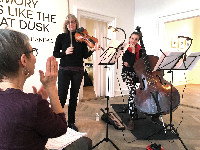 THE ETRURIA-SUITE from 2016 is a 20 minutes piece for violin og double bass in 9 short movements. The work has an underlying tale inspired by the Pyrgi tablets, an Etruscan artefact dedicated the goddess Uni Astri/ Astarte/ Ishtar.
LISTEN TO its 1.movement 'OPENING HOUR'
with Karen Humle, vl, & Ida Bach Jensen, db.
The Suite was completed during OPEN-MUSIC-WORK-PLACES
at The Museum of Contemporary Art
where I was engaged as a composer in November 16.
In December the music was 1st performed at Vendsyssel Art Museum at a concert featuring composers and musicians who introduced the new works from two workshop projects in 2016, and audience was engaged in open dialogue on the new pieces.



NEWS from me as a COMPOSER

Here you may READ, VIEW and LISTEN.
Click on images to see actual size.
Click on links to listen to the music.
Image- and audio files will open in seperate windows. Enjoy!
LISTEN to 'SPLINTRET LYKKE /
Splintered Happiness'
with ENSEMBLE STORSTRØM
It is the 7th movement of this commissioned work which I have composed in 2017 for the ensemble's new outreach project 'THE GARDEN - 3 Tales' in collaboration with Fuglsang Art Museum, Museum Lolland-Falster and Kulturtjenesten, premiere Sept-Oct 2017. I have created the music as 'audio images' (to be performed live) on the garden / park of Fuglsang Manor House and some common figures whose life was connected with the garden - in no. 7 it is
a young servant maid whose happiness is broken.
These in all eight HØREBILLEDER /Audio images
(30 min for fl,cl,bs,hp,p, vl,vla,vcl) form the concert of the project and bridges a historical insight into Fuglsang of the past on the one hand, and a conducted tour in the art museum followed by a visual art workshop on the other.
FOR GITTA-MARIA SJÖBERG
& POLINA FRADKINA
I have just completed 3 songs for soprano and piano.
I have chosen poems by Norwegian author Marit Tusvik for this commissioned work.
This is a new artistic collaboration for me, both with the duo and with the poet. Marit Tusvik is coming to DK to attend the 1st performance and the following evening Roskilde Library hosts a programme with her. Tusvik's poems are not published in DK, but some of her novels are - by Batzer & Co, and with the help of publisher Arild Batzer I got into contact with this fine Norwegian author. Her poems are short and condensed in a transparent language, and in the music I have strived to reach out for the poems' clear horizon of lived human experience to make it audible in corresponding transparency. The Danish Arts Foundation has granted composer's fee for this commission.
It is first performed by Gitta-Maria Sjöberg and Polina Fradkina in a lovely programme with also Mussorgskij's cycle 'The Nursery', Sibelius' songs, songs by Rachmaninov a.o.
28 Jan. 2018.

my new duo for violin and organ which

Kuno Kjærbye and Erik Hildebrandt-Nielsen
first performed April 2017 at Gottorf Castle Chapel in Schleswig (DE).
I composed two commissioned duos for solo violin & organ for GOTTORFER MUSIK IM LUTHERJAHR
'Gottorfer Tongewebe' ('tone web/ tone weaving'), and 'Hommage à Nicolaus Bruhns'. Gottorf Castle Chapel has remained untouched with its wonderful acoustics since the 16th century, and the organ is restored to what it orginally was. So my piece is inspired by the chance of bringing these unique sounds of the past into the present. During the creative process I had the opportunity to spend two days of writing by the historical organ in the very chapel.


The duo Kjærbye & Hildebrandt-Nielsen commissioned these pieces for their new programme in which they juxtapose new works with North German baroque music for both to shed light on one another.
See calendar for coming performances.

FARVESPILLET w/ ESBJERG ENSEMBLE (EE) The PLAY OF COLOURS, my interactive music tale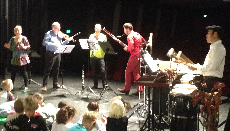 has been performed in two series of school- & family concerts in 16/17, featuring me in the role of story teller - cf press coverage with video from 8.Feb.

Alongside this, we are working on 'VIBRANDING'
- a thrilling collaborate work for Esbjerg Ensemble's 10 musicians and students from Esbjerg Music School and Varde Music School, to be peformed in the region in 2019.





MELANGELL - HONEY ANGEL
was toured in Iceland 2014.
Stefan Parkman conducted the performances
during Skálholt Summer Concerts
with Music for the Mysteries,
South Iceland Chamber Choir and
actor María Ellingsen as storyteller.
VIDEO



GOING TO HEAVEN
My latest work for choir reached the final in
Linköping Student Singers' Composition Award 2016.
This new piece is for TTBBB to a poem by Emily Dickinson. It was first performed 15 Oct 2016 in Norrköping
(SE)
.
LISTEN..
IF THE LAND COULD TALK


My collaborate project HVIS LANDET KUNNE TALE has been on since 2014.
If the land could talk, it would have a lot to tell...so I decided to set its silent speech to music together with 4-5 yr old children. We walk and sing the land of their local landscape, I compose based on the walks. By June 2017 in all 48 kindergardens / 1200 children have taken part.
I have done 320 walks with children and composed 8 music works, each 25 min,
with in all 41 songs and 31 interludes scored for choreographed childrens voices & professional instrumentalists in varying trio combinations.
sponsors: Roskilde District, Danish Arts Foundation, Danish Musicians Union


FARVESPILLET / THE PLAY OF COLOURS was first performed in DR Concert House Studio 4,
during three concerts in April 2013 and in 2016/17 Esbjerg Ensemble is doing a series of concerts with this piece: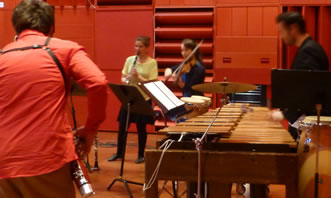 1st performance with Anna Klett, clarinet - Anrijs Ivanovskis, bassoon - Vera Panitch, violin - David Hildebrandt, perc, Hanne Tofte Jespersen, storyteller.


Danish Composers Association and DR-Musikariet (Radio Denmark) launched a competition in 2012 aiming at new music tales for children in which children would play an active tole in the storyline.
My proposal "Farvespillet / The Play of Colours" won.

LISTEN to extracts:



A 40 minutes interactive music tale for
5-8 year old children in which each instrument represents a colour and a character.
THE PLAY OF COLOURS is scored for violin, clarinet, bassoon, percussion*, storyteller and children's audience.
*) marimba, bongos, congas, temple blocks, triangle, chime, cymbal.
"THE PERCUSSION is a BLACK & WHITE jack of all trades who initiates the play. It consists of 4 dances:
The BASSOON has a RED dance full of funny movements, and you are the dancer. The CLARINET loves her YELLOW dance and would greatly prefer to enjoy it with her friend, the violin. The VIOLIN, though, so fast and full of ideas changes the yellow dance, and the clarinet gets angry and does not want to play the BLUE dance of the violin..... Thus the players need the children's help to get the clarinet back into the game so that all may reach the GREEN dance, for you to finally paint it all on the card of the play".
'Waltz of the Alfagot' for bassoon, cello and marimba, commissioned by bassoonist Anrijs Ivanovskis for his debut concert from Royal Danish Music Academy was first performed in December 2015.


The commissioned piece The Return of Dame Heurodis from the Otherworld for organ and the amazing Breton wind instrument bombarde, was first performed in Frederiksborg Castle Church Oct 2013 by Sven-Ingvart Mikkelsen and Jens Rømer. I based the piece on the magical Breton/Celtic medieval ballad "Sir Orfew"

. In 2014 the duo took it to San Diego and Bolzano and has it on their repertoire.

In Sept 2012 I visited Iceland on an artist's visiting grant to meet with collaboration partners for a coming Melangell tour project. In '12 I started collaboration with choreographer Sara Ekman (S) and scenographer Eva Holten (S/DK). We work with a network of choirs, actors and producers in the Nordic Countries, Baltikum and UK. In Wales we collaborate with young Welsh actor Laurelee Nicole who recorded with Music for the Mysteries in June '12 and performed release concerts with us in Oct '12. In DK and in the Faroe Islands it will feature actor Annika Hoydal.

The original script will be translated to the national languages of the participating countries. In 2011 I translated it to Danish.
In May 2011 I completed THE TESTIMONY OF MELANGELL in which I have set the tale of this Celtic/ early Christian female saint and mystic to music. Melangell is Welsh. Her name means "Honey Angel", and she is associated with a sacred valley in Northern Wales. The total duration is1 hour. The Danish Arts foundation granted composer's fee in spring '11. In Oct 10 I had received a grant for its completion.
The script is by Welsh writer Mike Harris who wrote it in 1989. It is a kind of "the-way-of-all-women" story.
A first extract titled "Music for Melangell" (30 min) was first performed during Music for the Mysteries' tour on the Faroe Islands in June 2010 as part of the Faroese festival for contemporary music, Summartónar.

In spring 2010 I received an artist's grant from Nordic Culture Point for a visit to The Faroe Islands. As a composer and conductor I took part in rehearsals with the Faroese choir singers who were to take part in the first performance of "Music for Melangell".
In spring 2010 I have also written a commissioned piece for solo mezzo soprano, alto and tenor,
mixed choir, violin, double bass and organ for 5 poems by George Herbert (1593-1633).
"Suite for poems by George Herbert" (20 min) was first performed 30.5.2010
during inauguration of the new organ in Ny Vor Frue Kirke
with Sine Tofte Hannibal, mezzo, Agnethe Christensen, alto, Henrik Rose, tenor,
Kuno Kjærbye, violin, Ida Bach Jensen, kontrabass, Brita Sjöberg, organ,
and 2 local choirs: Vor Frues Sangkor and Cantemus.
LISTEN to 1.movement here: 1.LOVE.
The piece was also performed during the tour to The Faroe Islands in June.
LISTEN TO 3. JOSEPH'S COAT from the concert in Gøta Church 20.6.2010
with Petur Martin Johannesen, organ, Agnethe Christensen. alto and Ida Bach Jensen, double bass.
My collaboration with Mike Harris started in 2007. I was on a 3 weeks composing retreat in Snowdonia in Northern Wales. In 09 it was extended to include the visual artist Alison Michell
(born in UK, resident in DK).
OTHER PERFORMANCES
I have set a series of Halfdan Rasmussen children's rhymes in music
which I perform for children in kindergardens and nursery schools together with
Anders Hvidberg-Hansen, percussion, and Katrine Suwalski on tenor saxophone.
As a singer, pianist and storyteller I'm also part of the trio behind Insektudsigten -
- 'weather forecast for insects' -
with 100 performances since 2004 for children from 3-10 years.
I have written the story in which a swarm of honey bees plays a major role.